Do the Mouse yeah let's do the mouse
Come-on do the mouse with me
Hey, do the mouse, yeah,
Hey, do it all around your house, yeah.
Be the first one on your block
Every cat will be in shock
Do the Mouse yeah
Let's do the mouse
Come-on do the mouse with me

When I was a kid I loved to watch Soupy Sales but for the life of me I cannot remember this song. Do you?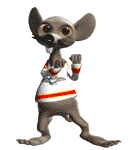 MyNiceProfile.com
Please visit
Hootin' Anni's Thursday Theme Song